About me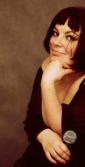 I've been singing for many years. I have a lot of experience in handling and running entertainments such as: events, weddings, New Year's Eve, banquets, proms, festivals, karaoke, and others.
Music has ''always'' been in my heart. I'm a singer with a great musical sensitivity.
I took part in many musical projects, including festivals on the Polish scene, which allow me to create a great atmosphere during performances.
I trained my vocal with the best specialists in Poland, including Elżbieta Zapendowska.
I am a professional, and I deal with music every day. I'm constantly developing my skills. In addition, my asset is high personal culture and impeccable presence.
With a wide range of competences, I am able to adapt to the client's needs and guarantee a vocal and music setting at the highest level.
If you still have any doubts, listen to the demo!
---
Our offer is a good choice! We guarantee fun for everyone!
I sing all over Poland and more